A Weekend In May
It's the merry month of May and with my Commando fuelled and loaded I set off for the Shenstone Branch Camping Weekend.  This year it was to be held at the Stafford Boat club situated at Wildwood on the Stafford and Worcestershire canal.  A look at their website (recommended) showed a promising location for the weekend.  So with the sun shining I head up the M40 with thoughts of pitching the tent and enjoying a cold beer by the canal as the sun was setting.  I stop en route to meet up with branch member Martin and after coffee we head to the site.
May 10th – Arrival – Day One
Arriving mid afternoon at the Boat Club we were greeted by our hosts for the weekend Shenstone Branch Members Sandy and Dave who, anticipating the changing weather, had the Norton hospitality gazebo up and fully kitted out with a fridge, kettle, heater and tea and coffee-  which was very much appreciated.  This was to be our haven for the next hour or so as the heavens opened preventing us from pitching our tents. Once the rain subsided and after successfully erecting our tents it was time to check out the amenities.
The site has two sets of toilets available to us both incorporating showers, there is a `pay` washing machine including a dryer (most useful if you have leaky panniers), plenty of electric hook ups, a comfy club house with a nicely stocked bar and though no site shop there is a Co-op just 10 minutes walk away. There is a local pub providing breakfast and other meals throughout the day and close by a Fish and Chip shop.
With an improvement in the weather a Fish and Chip supper by the canal was enjoyed before retiring to the bar, opened especially for us, giving everyone a chance to relax, catch up and discuss the next day's activities.
May 11th – A Real Pub, A Junction And Ice Cream – Day Two
Waking early Saturday morning after a cold night I peered out of the tent just as the sun was rising and the mist was rolling off the canal.  After a coffee in front of the excellent heater in the gazebo, thoughts turned to the planned ride out for today.  First was a trip to the Haberdasher's Arms in Knighton, a very traditional watering hole so off we set as the sun gained strength.  The route was a nice mix of A and B roads before winding our way down picturesque country lanes. The pub seemed to appear out of nowhere.  Greeted by the landlord we headed inside for refreshments.  With our thirsts quenched and helmets on we headed to our next stop – Norbury Junction Café – situated on the Shropshire canal, a good location to sit and watch the canal boats while enjoying a bite to eat from the café. With our energy level now restored and talk of ice cream we set off for our final stop at the Red Lion Tea Rooms in Haughton.  They cater for just about any ice cream fanatic's taste and soon we all sat outside enjoying our various flavoured ice creams. Now fully satisfied its back to the boat yard and time to chill by the canal with a beer or two before supper at the local pub, The Wildwood.  This is within walking distance of the site, they have a good menu, the food is nicely cooked and reasonably priced. Finally we round off the evening in the boat club bar.
May 13th – A Big Windmill – Day Three
Waking early Sunday morning and cracking ice off the tent I decide a hot shower is what's needed. It's a beautiful morning by the canal with clear skies, and after coffee and a good breakfast at The Sizzler there's time to sit in the sun waving to the passing canal boats and watching the local wildlife before setting off for our final ride out of the weekend. Today we will be going to Heage Windmill Classic Bike Day in Belper. The windmill is set in the beautiful Derbyshire countryside and the ride there takes us through some great scenery. The windmill hold various events ranging from classic cars to bikes (I recommend you check out the website) and when we arrive the place is buzzing and there are plenty of bikes on show, British, Italian and Japanese, many of which bring back fond memories.  We have a good wander round and I have a rather tasty cheesy sausage roll, before saddling up for the ride back to the boat yard.  It's been a great day enjoyed by all and rounded off by a relaxing evening in the club bar.
May 14th – Goodbyes and Thank You – Day Four
I wake early and make a coffee and, while sitting by the canal I reflecting on the last few days as the sun rises, it's much warmer than previous mornings.  It's been good, very good. The site is a great place to stay, the people a friendly, helpful and really good company and it's been a good base to ride out from.
With the tent packed and the bike loaded I say my goodbyes and though I'm not a member of the Shenstone Branch I feel I have become one. May I finally say a big thank you to Sandy and Dave for their warm welcome, hospitality and for organising the perfect Norton Camping Weekend.
It's all about the bike
Following a day trip to the AGM at Donington this year, which blew the cobwebs off my 650SS, my first camping weekend for the 2018 season was the Shenstone branch camping weekend held at the New Broom near Stoke. In total there would have been about 30 bikes there, mostly Commandos, and as a Dommie rider (I was on my old 88) mine was probably the oldest bike there.
Sandy and Dave were the ever-genial hosts and made sure everyone felt welcome and were looked after. The pub was incredible value – breakfast, for £7, was enough to choke a donkey, there was nothing wrong with the Marstons Pedigree, and they were doing two steaks on a two for one deal for £14 in the evening. You couldn't say fairer than that, and the camp site, to cap it all, was attached to the pub. The weather, for the entire weekend, was glorious. This is unusual, in my experience, as NOC camping trips usually feature rain, and lots of it.
On Saturday the ride out was to a rock feature up on the moors called The Winking Man, near a pub of the same name, where we stopped for a drink. Well worth a look, and somewhere you might never happen across if not part of a ride-out.
This was one of the largest group rides I have taken part in and it is a practical challenge keeping so many riders together in one group, especially dragging through little industrial hamlets like Leek. The FUBAR motorcycle club did a very effective job at shepherding the club members through the traffic, and the group did for the most part stay as one for the ride. There is something about the sound of 20-odd Nortons all firing up at the same time which puts a broad grin on everyone's face.
It surprises, me, though, having done a bit of this, why more members don't attend rallies with their Nortons.
I recall a discussion at an NOC AGM about 20 years ago – it was the one held at York Railway Museum – about whether people should be allowed to attend NOC rallies on non-Nortons. Being a tree-hugging liberal, I piped up for people whose bikes were in bits, the inclusive nature of the club, the importance of spreading the word about Nortons, these being the places where people can get advice about their bike, and so on. One older club member who was there made the point that his old Dommie did over 2000 miles every year, on the continent. "They will do it", he said. "They were designed to do it". My response at the time was to ask whether he would come and have a look at my Dominator, because in those days neither of my Dommies was especially reliable, having vibrated bits loose all over North Wales, and leaving me stranded now and again through a double-dose of hot-mag syndrome. I wanted to get both bikes to the point where they could do multi-day tours. Talking to a couple of blokes at Shenstone from the Yorkshire branch who had been adding go faster bits for years, they had come to the conclusion that reliability was the thing. I agree.
These trips help shake a bike down. My first camping rally was Kendal in 2016. Despite having been a club member for over 20 years, I hadn't been to a club rally in that time. Partly because I didn't really believe the bikes were up to it. You hear people saying things like "British bikes blow themselves to pieces on the motorway" – no, they don't. Keep it to 60-65 and they'll go all day- even an old 500, like my 88.
Part of these trips for me is seeing what the bike will do. In 2016 I rode the 88 to the Longest Member rally in Banbury, then in 2017 Applecross, over the Bealach na Ba in the far north west Highlands, took the A7 cross pennine route to Town Yetholm on the Northumbria/Scottish border, and dragged through the Bristol traffic to the National at Weston near Bristol. The 88 never missed a beat.
The bikes will stand it: these days, the question is, on a long trip, whether I can. Having had rain and hail coming sideways at me over Shap Fell on the way back from one of the Scottish trips, I was reminded of an 88 at Town Yetholm that had an Avon fairing fitted. This bike had been across Canada, two up, with luggage (there is a write up on the Real Classic web site). I located a fairing with the featherbed fittings, through the club, and fitted it. Shenstone was its first proper trip, and was really a shakedown for Austria in August. I'm happy to report that nothing fell off. Loctite works wonders. I now have some weather protection, and with some streamlining in place, the old motor seems to be doing less work.
An active branch is a fine thing, and my hat's off to those who do the organising for these trips and the hard work to keep a branch going. Branch rallies provide a focus for the bike, something to aim for, and in my experience club members are very welcoming of new faces at rallies, especially if they turn up on a Norton. Most bikes have a story, and most members are keen to hear it. In turn, the members can be a mine of useful information, although it may need to be filtered, sometimes. In Shenstone there was talk of insurance reporting requirements and gudgeon pin circlips coming loose. Some fit PTFE plugs instead these days, apparently. Useful to know.
My bike was examined by a bloke wearing a hat, and declared to be "bits of all sorts", which I knew already. My wideline bike's rear swinging arm was said to be off a slimline, which is true, and the tank was said to be off an International, which ain't so. I was able to help another club member with what to look for as he was going to look at a Dominator the next week, and he didn't know much about them. There were stories of old Nortons, present at the rally, looking in some cases well-worn, and in others immaculate, having done incredibly high mileages without the heads being lifted. Again, good to know.
These rallies are a good opportunity to come across parts that people have for sale. Most people will generally have something lying around which they don't need but you do, and not everyone can be fagged with putting stuff up for sale. Other club members can be a source of parts that could help keep your bike on the road. A club member supplied my fairing, and another fabricated a spare windscreen for it. There are parts and expertise out there, and rallies are a good way of finding both.
I suppose one thing that puts people off rallies is camping. Maybe people don't have the kit, or they don't have panniers, or they worry about bike security, or think they are going to get wet. The last bit is usually true, in my experience, especially in Scotland. Camping kit nowadays, though, is cheap, and very good, certainly good enough for a couple of nights. Throw-over panniers are easily sourced and security isn't something I've ever worried about. Bike covers help, cable locks are quite light, and a deterrent. I once heard someone say that nothing had ever been reported stolen at a NOC National rally in all the years they've been held. I can believe it.
On the Sunday attendance at the Shenstone camping weekend started to thin out as people started their treks home to avoid the Monday bank holiday traffic. I was fried after the sun on Saturday, and packed up to avoid further sun-stroke, so missed the Sunday ride-out which was a charity event at which the Nortons were to be the star attraction.
Work commitments mean that my next trip will be Austria and then Town Yetholm in September, which I would strongly recommend not only for the craic and the place itself, with great camping facilities, but also for the A7, probably the best trans-pennine route there is, a little-known gem of a road.
Another Shenstone trip is planned for later September, at £10 camping for the entire weekend, great food and great company. Early booking is advised. Thanks again to Sandy and Dave.
Shenstone Branch would like to welcome you to join us for our 1st camping weekend.
At our February meeting, Sandy Johnson was installed as the Chairperson for the branch, as the incumbent Barry Owen retired from the role.  Many thanks to Barry for his years of service, and good luck to Sandy in her new role.
The December meeting of the branch was our Christmas fish and chip night.
The 23rd Carole Nash Classic Motorcycle Mechanics Show was held at the Staffordshire Showground on the 15th and 16th of October and for the Shenstone Branch this was our ninth successive year at the show.
Fortunately we had the same sized stand as last year which allowed us to use our gazebo again with ample space to exhibit the bikes.
The Stafford show is the largest of it's kind in the world, so it was no surprise when reports say more than 15,000 people attended the show on the Saturday alone, this showed on our stand which at times was 'hectic' with some people waiting for up to 15 minutes to ask a question of one of our branch members manning the stand.
On Saturday we were pleased to see our vice president Ken Sprayson and on Sunday our president Mike Jackson. They both commented how good they thought our stand was. Peter White, a member of the NOC executive also came to see us at our stand on the Saturday.
On Sunday we were visited by a Norton owner who lives in Texas, he has a Commando 'High Rider' back in the United States and said that he was now looking to sell the Commando and acquire a 1950's Norton single.
All the Norton's on show were Shenstone branch members bikes. Dave Kington's 750 Commando, Bob Johnson's  650SS, Nick Meakin's Fastback Commando, Martin White's Big 4, Sandy Johnson's Fireflake Roman Purple 750 Commando, Barry Owen's Navigator and Bunny Kyd's Dominator 88.
With the larger stand it enabled us to better space the bikes allowing more people to look around, with branch members constantly answering questions about their bikes.
Many thanks to all who came along to help man the stand and promote the club throughout the weekend and make it an enjoyable event.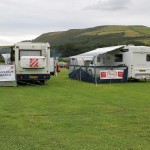 This gallery contains 11 photos.
The Shenstone Branch had a stand at the 19th Carole Nash Classic Motorcycle and Mechanics Show at Stafford on the 20th & 21st October. This was the fifth year the branch has organised the stand and as in previous years we were able  to exhibit a selection of Nortons which were all different models.
We had Sandy Johnson's 'Fireflake Roman Purple' 750 Commando, Brian Glover's M30 Manx,
Barry Owen's Navigator, Darren Coggins's new 961 Cafe Racer, Bunny Kyd's 'Dommie 88' and
Ray Wildman's ES2.
After the weather we have had this year, luck gave a hand, and the weather was dry and mild which
certainly helped to bring in a large number of people and kept the stand busy. We were very pleased
to  be able to meet NOC members from France and New Zealand who came to visit the stand.
The highlight of the show, for the branch, was when on the Sunday morning a show official visited the
stand to award a rossette ( highly commended ) for our branch chairman and the NOC's vice chairman Barry Owen's Navigator.
Barry has only just acquired the bike and was adamant he had not even had time to clean it before the show!.
Thank you to all the branch members and others who came along and helped man the stand and for
promoting the club. I am sure we have gained some new members thanks to your efforts.
Ray Wildman, Shenstone Branch
This was the fourth year the Shenstone Branch had a stand at the Classic Motorcycle Mechanics Show held at the Stafford Showground on the 15th and 16th October. Despite some sceptism of how many would be at the show the number of people there seemed to be more than last year – perhaps the sunny weekend helped.
One of our new branch members Sandy Johnson had her newly restored 750 Commando on the stand. The bike which has been restored from a 'basket case' was only finished two weeks before the show by another branchmember Alan Clarke. Its rare colour of 'Fireflake Roman Purple' created a lot of interest over the weekend.
Thanks to all the branch members who gave up their free time to help man the stand and of course whenever the opportunity arose encouraged people to join the NOC.  Also thanks to our NOC Events Co-Ordinator, Jim Brown who brought along his M30 Manx.
The other bikes on the stand were Bunny Kyd's 'Dommie88' , Ray Harris's 'Dommie99' , Bob Johnson's '650SS' and Ray Wildman's 'ES2'.
        Ray Wildman 
        Shenstone Branch